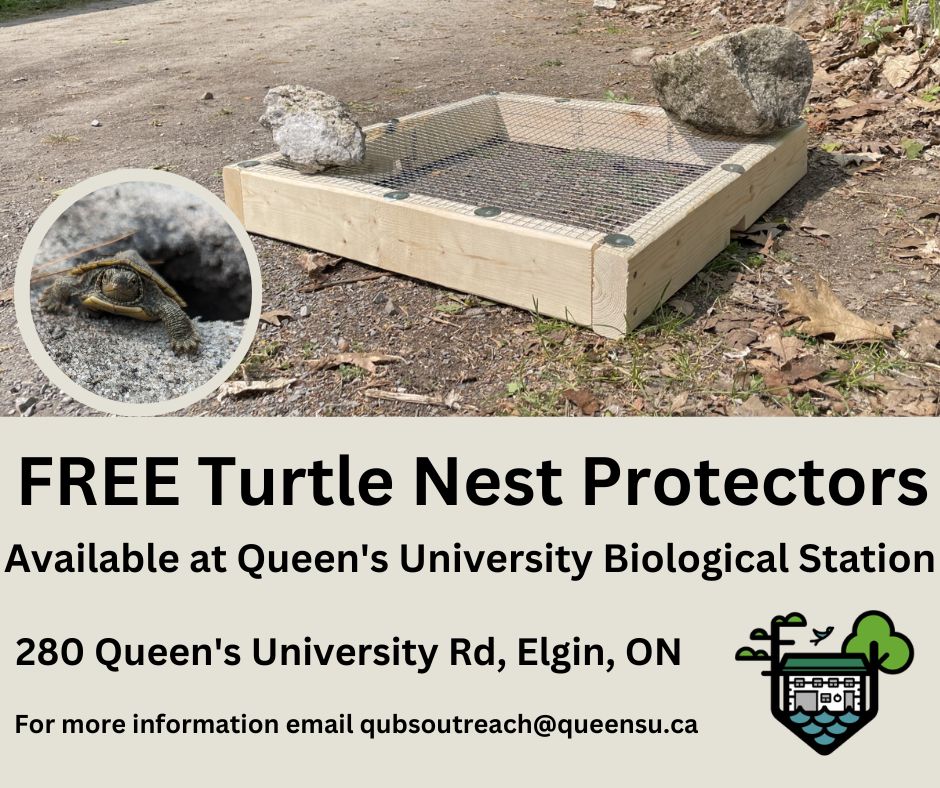 Have you seen a turtle nesting on your property on Lake Opinicon or the surrounding area? 
HELP TO PROTECT NESTS FROM THEIR NATURAL PREDATORS
If you want to protect a nest from predators, you can cover it with a nest protection box. We have nest protectors to give away!
WHAT DOES A NESTING TURTLE LOOK LIKE?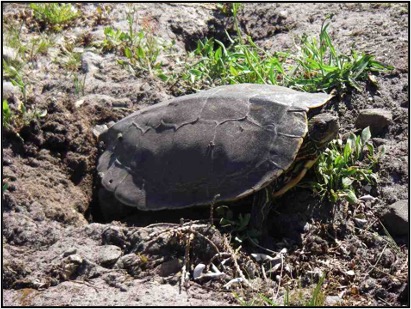 A turtle on land may not be nesting. Nesting females can be picky and may take a while before starting to dig out a hole in the ground to lay their eggs. A turtle digging a nest or laying eggs will have its rear end in a depression in the ground and will make slight side to side motion.  Turtles cover their nests very carefully. If you see a hole in the ground, it may be an abandoned nesting attempt by a turtle but it will not contain eggs
WHAT TO DO IF YOU SEE A NESTING TURTLE?
Keep an eye on it from a distance. Nesting females are skittish and will abandon their nesting attempt if disturbed. When a female is done laying her eggs, she will start filling up the hole with her hind legs. When the female starts moving away from the nest, you can approach the nest and mark the nesting location by laying a branch or small rock on top of it.  Turtles sometimes like to take their time when searching for a nest so locating a nest may take a while but it's worth it.
Once she is done nesting, a nest protector can be put over the nest to protect the eggs from predators. This should be weighted down with large rocks or staked down with spikes/large nails. This will help prevent predators from moving it to access the eggs.
Please be aware of where you place these nest protectors to ensure that they are not a hazard for motorists, cyclists, or hikers. We recommend using spikes rather than rocks/cinder blocks in areas where this might be a concern. For added visibility, you could spray paint the wood of the nest protector orange or put a hazard flag or cone nearby to make it more visible to people. Though we want to protect as many turtles as possible, we don't want any people to be injured in the process. Please remember to remove the nest protectors from roadsides after hatching season to ensure the nest protector and road maintenance equipment do not get damaged.
WHO TO CONTACT?
If you would like a nesting box, please email QUBS at qubsoutreach@queensu.ca and we will give you directions to pick one up.
At the end of the season, you can either keep the nest protector to use again, or return it to us to be redistributed next year.
This project was funded by the South Frontenac Lake Ecosystem Program.